INTERNATIONAL OFFICE
EXCELLENCE AND GLOBAL VISION
INTERNATIONAL OFFICE
EXCELLENCE AND GLOBAL VISION
We are more than happy to welcome you to FEN on exchange, even if your school or university does not have an exchange agreement with FEN. As an independent free-moving student you will have to pay for the courses you take during your semester here.
The free-mover fees for a semester are as follows:
Registration fee: US$500
6 credit course: US$1000
4 credit course: US$800
2 credit course: US$600
Once you are enrolled in courses at FEN, you will receive an invoice from our office with your tuition fee amount. You will then be able to make the payment via international bank transfer (in US Dollars or Euros) or via cash deposit (in Chilean Pesos).
Once proof of payment has been submitted to our office, we will ensure you receive your transcript after the semester has ended.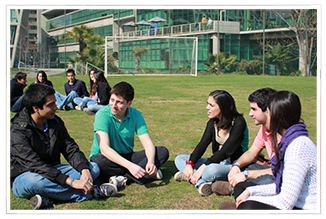 NEXOINTERNACIONAL
Diagonal Paraguay 205 Santiago de Chile - Código Postal 0023456
nexointernacional@fen.uchile.cl / Teléfono  (+56) 2 2978 3911
Escuelas de Pregrado FEN-UChile