INTERNATIONAL OFFICE
EXCELLENCE AND GLOBAL VISION
INTERNATIONAL OFFICE
EXCELLENCE AND GLOBAL VISION
POST ACCEPTANCE INFORMATION
The International Exchange Program team is looking forward to welcoming you to Santiago! The following steps contain everything you need to prepare for your time with us at FEN.
The International Office does provide a mandatory, online Pre-Departure Information Session approximately 2 months prior to the first day of class that contains this information as well as additional information, tips, and suggestions.
1.Book your Flights to Chile:
As soon as you receive your acceptance email you can book plane tickets using the semester dates here to ensure you arrive before the mandatory International Student Orientation. Remember; though we want you to explore Chile and the region, attendance at FEN courses is mandatory and test dates can change even during the semester, so be sure to travel before or after your semester at FEN!
2.Visa Information:
Please see the Chilean Embassy or Consulate nearest you for information relevant to your nationality. We highly encourage students to come on a student visa. Details can be found here regarding visa information. Our International Office hosts an online Visa Information Session after acceptance letters are sent. It is highly recommended that you attend.
3.Compulsory Health Insurance:
Exchange students at FEN must be covered by an international health insurance plan for the entire duration of their period of study. It is a question of physical and financial security, since medical care in Chile can be expensive. You will have until the first Friday of classes to submit proof that you are covered by insurance for the semester dates you will be here in Chile. Please review Chile´s entry requirements here. Students who fail to provide proof of health insurance will not be able to continue attending classes.
Should you have a medical condition that requires special attention or needs, you must provide a medical certificate from your doctor.
4.Preparing for your Semester at FEN:
We want you to connect and prepare for your Chile experience even before your arrival! Explore our website for more information regarding FEN and your semester in Chile. Be sure to check out the Let's Chat and FEN Buddy programs, as well as the International Student Association of FEN (ISA FEN)! 
5.Course Registration:
The course catalog for FEN's academic year can be downloaded here. Please use this as a guideline for next semester's courses and discuss alternatives with your academic coordinator in case there are scheduling clashes or cancellations. We will not know the class schedules until you register online for courses two weeks before the semester begins.
We will update the catalog as soon as the information is available. Course registration is online and usually takes place in early December of the previous year for the First Semester and early July for the Second Semester.
6.Housing
Some students choose to arrange housing before their arrival in Chile, while others use the first week or two to find accommodations in person. Please find our housing guide here. FEN does not provide housing, nor can we make recommendations.
7.Planning Budget:
Please check recent information on the cost of living in Santiago, in order to plan your finances during your stay in Chile.
8.Mandatory Orientation:
All students coming to FEN are expected to attend the mandatory International Student Orientation.
It's an important event that takes place during two mornings at FEN: one online and one in person. Topics and activities that day include: academic information, life in Santiago and FEN, tour of campus, a cultural activity to meet Chilean and other international students, and a presentation on culture shock with coping strategies.
9.Checklist
Here's a checklist to help you remember everything you need to do and bring with you.
Pre-Departure
 I have received my FEN Acceptance letter (if required).

 I have received my student visa (if required).

 I have my proof of health insurance for my duration in Chile.

 I have booked my flights.

 I have registered online for my courses.

 I have discussed alternative course options with my academic advisor.

 I have marked the important and mandatory dates on my calendar.

 I have reserved my temporary/ permanent accommodation.

I know what the sanitary measures and requirements are to enter Chile.
Packing List
Clothing: Despite the Mediterranean climate, Santiago's position at the base of the Andes Mountains can cause drastic temperature changes throughout the day so layers will be your best bet year-round! Summers tend to be dry and hot with cool evenings and mornings while winter can feel even chillier than other cities as there are few houses that have central heating. For more details, we suggest you check the weather closer to the date of your arrival.
The following should be kept with you at all times (not in your suitcase!):
 Photocopy of my passport

 Instructions on how to use my health insurance while in Chile

 My means of payment (credit cards, cash, etc. – though ATM's are plentiful in Santiago)

 A photocopy or scan of my credit cards and the numbers to call if they are blocked or stolen (report your travel plans to your companies!)

 My medication (be sure to bring a copy of the original prescription just in case!)
Arrival to Santiago
 I have organized my transportation from the airport (we will share options and instructions during our online Pre-Departure Information Session).

 I have my hostel/accommodation address printed.

 I have some Chilean pesos for my first day in Chile (to avoid lines at the airport ATM or currency exchange office).

 I have looked up how to get from my accommodation to FEN for Orientation Day.

 Lost luggage and delays may occur, so be prepared. Consequently, you should always keep important items with you.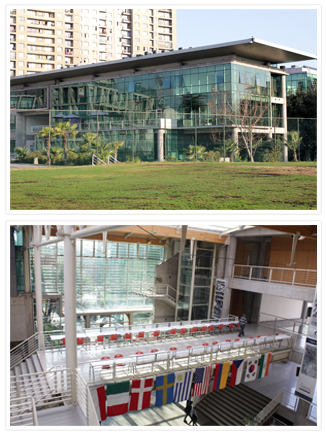 NEXOINTERNACIONAL
Diagonal Paraguay 205 Santiago de Chile - Código Postal 0023456
incoming@fen.uchile.cl / Teléfono  (+56) 2 2978 3911
Escuelas de Pregrado FEN-UChile