INTERNATIONAL OFFICE
EXCELLENCE AND GLOBAL VISION
INTERNATIONAL OFFICE
EXCELLENCE AND GLOBAL VISION
The Undergraduate School at FEN offers four Bachelor´s degrees:
Bachelor´s in Business Administration
Bachelor´s in Economics
Bachelor´s in Information Systems & Management Control
Bachelor´s in Auditing
FEN offers over 300 courses taught in Spanish and 15 to 20 courses taught in English every semester. All courses are open to international exchange students, but registration will depend on availability and class size.
International students register for courses online before the semester´s start, full details of which will be sent in advance on an individual basis.
Our Course Catalogue provides short course descriptions, as well as complete syllabi. Please download here:
For more information on courses at FEN, please contact Miss Alisha Stiteler, Incoming Student Exchange Coordinator: astiteler@fen.uchile.cl
Please note: The offering of courses may vary. All courses may not be offered every year or every semester.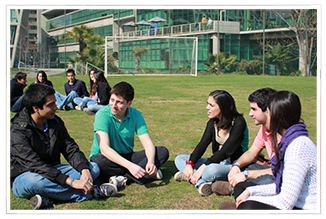 NEXOINTERNACIONAL
Diagonal Paraguay 205 Santiago de Chile - Código Postal 0023456
incoming@fen.uchile.cl / Teléfono  (+56) 2 2978 3911
Escuelas de Pregrado FEN-UChile