INTERNATIONAL OFFICE
EXCELLENCE AND GLOBAL VISION
INTERNATIONAL OFFICE
EXCELLENCE AND GLOBAL VISION
Studying abroad on exchange is a very special time in your life. There are some incredible opportunities for personal growth, making new friendships, leaving your comfort zone & of course learning a new language.
FEN´s academic work load is intense and challenging but, while you are expected to attend all your lessons (they are compulsory and attendance is taken at the beginning of each class), we are sure that you will make time to discover Santiago by day and by night, learn about Chile´s rich culture and discover skills a classroom setting will never provide.
Here are some of the activities offered outside the classroom at FEN:
Sports and leisure activities

. Choose from over 30 sports and leisure activities every semester, including rock climbing, football (soccer), zumba, ballroom dancing, tennis, photography, taekwondo, yoga and drama.

Friday night parties at FEN

. These usually involve live music and are known here as the "jaranazos".

Student organizations and societies.

 Get involved in the International Student Association, volunteer organizations, charity work, the Film Society, the Drama Group and the Dance Troupe, among others.
Help FEN students improve their English language abilities by participating in Let's Chat.

Talks and conferences.

 FEN hosts a range of topical talks, conferences and debates, all of which are open to students.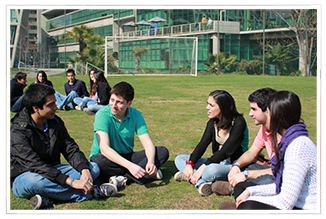 NEXOINTERNACIONAL
Diagonal Paraguay 205 Santiago de Chile - Código Postal 0023456
incoming@fen.uchile.cl / Teléfono  (+56) 2 2978 3911
Escuelas de Pregrado FEN-UChile