INTERNATIONAL OFFICE
EXCELLENCE AND GLOBAL VISION
INTERNATIONAL OFFICE
EXCELLENCE AND GLOBAL VISION
Want to get to know FEN students and help them improve their English speaking skills? Are you interested in making friends with Chilean students and helping them feel confident about speaking in English? If so, we need your help!
Every semester we welcome English-speaking international students to volunteer an hour of their time to chat in English with Chilean FEN students over lunch. The goal of this program is to create a space where Chilean FEN students can improve their English in a casual setting and meet the international students, and where the international students can make more Chilean friends and learn more about Chilean culture and life.
Up to 10 international students are welcome to bring their lunch each Tuesday (and some Thursdays) of the semester (minus the exam periods) during the lunch period to chat with those Chilean FEN students who can make it that week. We will provide a list of conversation starters so all students will need to bring is lunch and themselves!
Students are welcomed to sign up via a link emailed to them ahead of time for that week's Let's Chat session.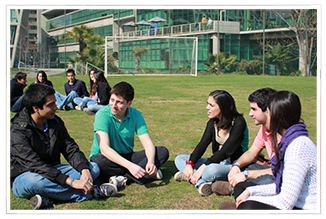 NEXOINTERNACIONAL
Diagonal Paraguay 205 Santiago de Chile - Código Postal 0023456
incoming@fen.uchile.cl / Teléfono  (+56) 2 2978 3911
Escuelas de Pregrado FEN-UChile