INTERNATIONAL OFFICE
EXCELLENCE AND GLOBAL VISION
INTERNATIONAL OFFICE
EXCELLENCE AND GLOBAL VISION
Every semester we pair incoming international students with students who have already been studying at FEN for at least a semester, based on a few common interests in order to extend friendship and peer support on a volunteer basis.
What is it all about?
– To provide a space for international and Chilean FEN students to meet and learn about each other's cultures, languages, universities and countries.
– To ensure that both the Chilean and international students have a fun and positive experience during their semester.
This program is optional but is highly recommended by both the International Office and past international students.

Throughout the semester, the International Office will host a number of events for all Buddies.

Buddies also have the opportunity to organize events with other buddies, and invite others in the buddy network along.


The International Office will provide on-going support for all students in the case of queries or concerns.

What do we expect from FEN Buddy participants?
We expect both Chilean and International students to:
Make an effort to meet regularly with your FEN Buddy during the semester and keep in contact
Treat your Buddy with respect and be sensitive to possible cultural differences that may exist
Ensure that you do not pressure your Buddy into participating in a situation in which he/she does not feel comfortable.
Help your Buddy with any questions or concerns he/she may have
Include your FEN Buddy in any cultural and/or social events and activities that you or your friends do or hear about.
Benefits of meeting often:
The semester can get busy and courses can be stressful but the more you meet, the more likely it will be that you…
Begin a long-lasting friendship with your FEN Buddy
Feel more comfortable talking with people from different countries
Improve your ability to speak the language of your FEN Buddy
Have more Chilean/international friends
Have friends all over the world that you can visit when you are in their part of the world
Become more confident about making mistakes in the language you are learning
Want to study abroad
Have friends waiting to welcome you to your future study abroad destination
Learn about different cultures and ways of life
Have more fun!
Tips on making the most of your FEN Buddy experience:
Stay connected with your FEN Buddy! Use What´sApp, Facebook, Twitter, email to communicate and get together.

Eat lunch or have a tea or coffee with your Buddy between classes!

Help each other with any questions about exams, classes, languages, countries, etc. Your FEN Buddy may not know the answer but may be able to give you pointers or direct you to someone who does know about the topic.

Go to a Nexo Internacional event together! The Incoming Student Exchange Coordinator sends out event invites frequently so be sure to read the emails and invite your FEN Buddy.

Go to the monthly Chilean Film Nights: Every month Nexo International shows 1-2 Chilean films with English subtitles. Each film night usually starts at 18:30hrs and will always be in the Price Auditorium. This is a public event so you and your FEN Buddy can invite other friends, too!

Don´t be shy about using your Buddy's language! Your Buddy probably has the same level or worse language abilities in your language so don't worry about making mistakes.

Make the effort to learn and/or speak your Buddy's language. Plan a language swap where you both speak in one language for half the time and in the other language for the other half!

Go to cultural events together! This could be a Chilean asado or to see a movie at an Embassy — there is always lots to do in Santiago! (Go see Nexo Internacional for more ideas and a list of free things to do in the city.)

Take a study break to learn to cook food from your FEN Buddy's country, see a foreign film together or share your favorite band, tv series or music video.

Spend time outside! Have a picnic, play football, bicycle or hang out in one of the many parks around us (Parque Bustamante, Forestal, and San Borja, and the green spaces in and around Cerro Santa Lucia, are all near FEN). Providencia also has bicycles that you can rent!

Share about your family and their traditions. If you have photos of your family and house, share them or use Google Maps to give a virtual "tour" of your neighborhood and university to your Buddy.

Maintain contact! Most International FEN Buddies leave at the end of the semester, but be sure to exchange addresses and Skype accounts. Become pen-pals or share each other's blogs to maintain contact. You never know when you might find yourself in your Buddy's neighborhood again!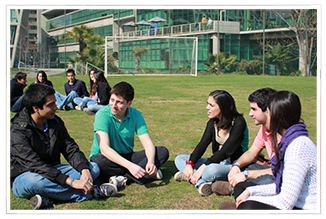 NEXOINTERNACIONAL
Diagonal Paraguay 205 Santiago de Chile - Código Postal 0023456
incoming@fen.uchile.cl / Teléfono  (+56) 2 2978 3911
Escuelas de Pregrado FEN-UChile