INTERNATIONAL OFFICE
EXCELLENCE AND GLOBAL VISION
INTERNATIONAL OFFICE
EXCELLENCE AND GLOBAL VISION
About Chile
Chile offers a baffling range of geographical record-breakers; it is a country of astonishing contrasts and extreme beauty. As the world´s longest and narrowest country, Chile stretches over 4,300 km (2,700 mi) along the south-western coast of South America, a distance roughly the same as that from San Francisco to New York, or Edinburgh to Baghdad. At the same time, its width never exceeds 240 km (150 mi), making the country more than 18 times longer than its widest point. It is home to the southern-most city in the world, Punta Arenas, and the southern-most village, Puerto Williams. To the north, the land rises and turns bone-dry when one reaches the forbidding Atacama Desert, one of the most inhospitable regions on earth. Parts of Chile's Atacama Desert haven't seen a drop of rain since recordkeeping began and yet, somehow, more than one million people squeeze life from this parched land.
About Santiago
On a clear day, Santiago offers one of the most spectacular settings of any city in the world. A glance through the sky-scrapers reveals a mighty circle of mountains – the snow-capped Andean peaks to the east, and a smaller coastal range to the west – that frames the Chilean capital.
Santiago is cultured, quirky and ambitious. Beyond the conservative conformity of Santiago Centro, and the glass towers of the Las Condes financial district, there are thriving culinary and artistic hot spots that are a joy to discover. Gourmets feast on world-class cuisine in Bellavista and Providencia, bohemians gather in the charming old district of Barrio Brasil, while the city is dotted with interesting museums and a flourishing arts scene. With a booming café culture and leafy, exotic suburban parks, Santiago has an infectious energy and a growing confidence. And those mountains don't just sit there as decoration – there's a huge range of activities within easy reach of the urban sprawl. Trekking, climbing, horseback riding, skiing, kayaking and wine tours are just a few of the exhilarating possibilities at Santiago's doorstep.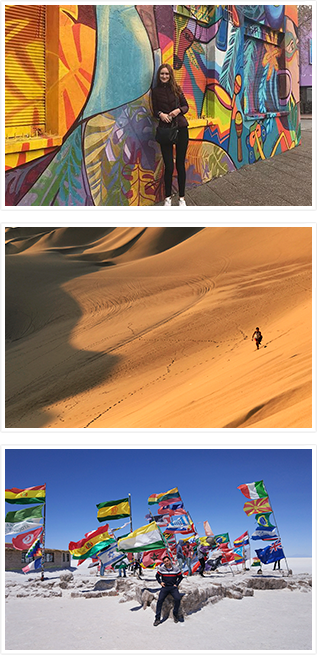 NEXOINTERNACIONAL
Diagonal Paraguay 205 Santiago de Chile - Código Postal 0023456
incoming@fen.uchile.cl / Teléfono  (+56) 2 2978 3911
Escuelas de Pregrado FEN-UChile